"And then, settling like a colourful, calming cloud over proceedings, is Jenny Runacre as Marguerite's (slightly) older confidante, advisor and, to use the modern parlance, her bezzie…"
Runacre, method exponent par excellence, commands the stage without ever dominating it – a generous, collegiate approach that she shares with musical icon Patti Lupone in the current West End production of Company.
Normally, when a screen star arrives on the West End stage it's with great fanfare but here we have Hollywood royalty appearing almost unnoticed in a little theatre down the road from the Old Vic and the National.
The star of John Cassavetes' Husbands (1970), Antonioni's The Passenger (1975) – where she appears alongside Jack Nicolson and Maria Schneider – and her eclectic dual roles in Jubilee (1978), directed by her pal Derek Jarman (sadly no longer with us) all show that it is her craft that is the most important driving force whether it be on the silver screen, on television or down in the back streets of Waterloo.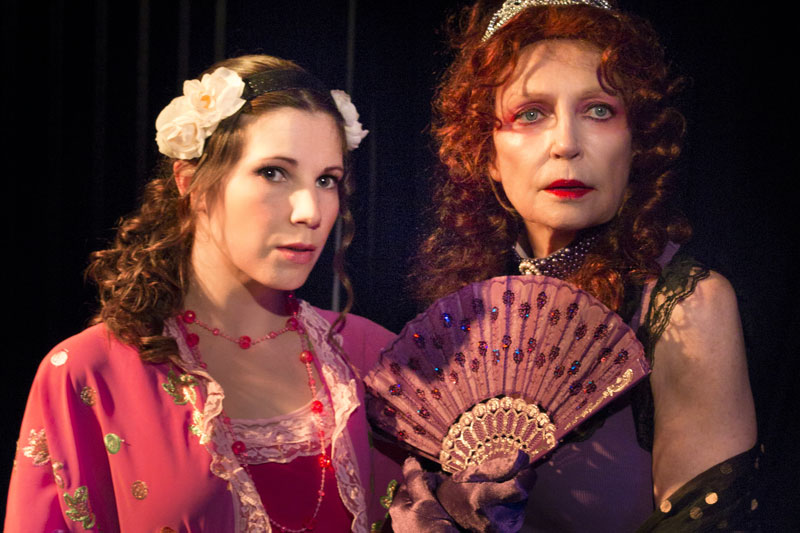 Prudence is a great role for her – she's a bit of a gossip, she likes a flamboyant hat and Runacre sports her Zandra Rhodes jacket with the nonchalant aplomb of a supermodel. It's a wonderful performance – a privilege to be in the audience.
Runacre continues to appear in films, directs plays, teaches and often works with her daughter Mariele Runacre Beck in her Wireless Theatre Company.
The full review can be read here www.londontheatre1.com/reviews/the-lady-of-the-camellias-at-waterloo-east-theatre/