films
TALKING AT THE EGYPTIAN THEATRE LOS ANGELES – 2019
– on Working with John Cassavetes
THE BURNING BABY – 2019
Director: Paul Kindersley
TAGLIONI – 2019
Dance Film on Four – JessandMorgs Films
THE IMAGE – 2018
Paul Kindersley – film for Charlton House, the Bloomsbury Group
CURING ALBRECHT – 2016
Dance for Film on Four – JessandMorgs – Films link and Photo – Giselle
https://youtu.be/pQYP96phKKE
DAS SPIELE DER HOFFNUNG – 2016
Director: Paul Kindersley – Still from film
'MEET PURSUIT DELANGE' – 2014
Role of Miss Haversham – Factory Film Productions
CAMBERWELL BEAUTY – 2013
Director: Chris Ward – Wet Paint Productions
PREQUEL TO GISELLE
At the Sadlers Wells Theatre – the role of Gerda – directed by Morgann Runacre-Temple and Jessica Wright for the English National Ballet.
HUSBANDS
Director John Cassavettees, with Ben Gazzara and Peter Falk.
CREEPING FLESH
Last of the Hammer Horrors, Director Freddie Frances.
CANTERBURY TALES
Director: Pier Paolo Pasolini – role of Alison in The Millers Tale.
DYNAMO
Director: Stephen Dwoskin – film won Best Foreign Film Prize at theToulon Film Festival.
THE MACKINTOSH MAN
Director: John Huston with Paul Newman
THE FINAL PROGRAMME
Director: Robert Fuest with Jon Finch
THE PASSENGER
Director: Michelangelo Antonioni, with Jack Nicholson and Maria Schneider.
JOSEPH ANDREWS
Director: Tony Richardson with Peter Firth.
THE DUELLISTS
Director: Ridley Scott with Harvey Keitel.
MERLIN
Director: Freddie Frances with Ringo Starr.
JUBILEE
Director: Derek Jarman, dual roles of Queen Elizabeth 1 and the anarchist Bod.
THE LADY VANISHES
Director: Anthony Page with Cybil Shepherd and Elliott Gould.
THE WITCHES
Director: Nicholas Roeg with
Anjelica Huston and Rowan Atkinson.
TAGGART
Made for TV Movie: "Love Knot"
Director: Peter Barber Fleming
EMILY, THAT ENGLISHWOMAN
Director: Dirk de Villiers.
TOPSY TURVY
Director: Mike Leigh
REBECCA
Made for TV Movie with Emily Fox and Faye Dunaway
SWEETMEATS
Director: Joseph Oppenheimer
THE SQUEEK
Director: Angelika Padberg
Film presenting and discussing The Final Programme for American Television
THE PURSUIT OF LOVE
Director: John Maybury – starring Keira Kneightley and Sienna Miller – 2009
BOOGIE WOOGIE
Director: Duncan Grant – starring Christopher Lee and Heather Graham – 2010
JUBILEE
Film discussing Jubilee and working with Derek Jarman for Janus Films, U.S.A.
THE SWEENEY
Film discussing the series "Sweeney" and how it reflected the period, for Euston Films Ltd.
audio
SHERLOCK HOLMES – 2019
Audible Books
television
BUTTONS
TV Pantomime with Rula Lenska
THE NEW AVENGERS
With Joanna Lumley
THE SWEENEY
With John Thaw and Dennis Waterman
BLACK KNIGHT
BBC 1 with Sinead Cusack
BRIDESHEAD REVISITED
Director: Charles Sturridge with Anthony Andrews and Jeremy Irons.
ONLY CHILDREN
BBC 1 Play for Today written by Lynda La Plante
THE OPTIMIST
Series for Channel 4
LOVEJOY
ITV Series with Ian McShane
CALL ME MISTER
ITV Series produced by Robert Banks Stewart
OMNIBUS
Drama documentary re: American author "Don de Lillo"
ARENA
Tribute to John Cassavettees – "The Making of Husbands."
theatre
Various roles in the Provinces, and on tour in places such as Bath, Scarborough, Birmingham, Bournemouth and Edinburgh in a variety of Fringe and Repertory productions.
ENTER QUEEN LEAR
September/October 2016 – the role of Queen Lear in "Enter Queen Lear' on at the Drayton Arms Theatre directed by Simone Vause – produced by Streetwise Productions.
THE GHOST TRAIN DOESN'T STOP HERE ANYMORE
March 2016 – the role of Myra in The Ghost Train Doesn't stop here any More on at the Tristan Bates Theatre – produced by Kim Newman.
LONDON
OH CULCUTTA
Director: Clifford Williams, one of the original cast of ten in Kenneth Tynan's production at the Roundhouse and the Royalty Theatre.
DYNAMO
Kings Head theatre, Islington then the Traverse Theatre Edinburgh Festival.
Various and many fringe theatre productions in venues all over London including working with Directors such as Ed Berman, Robert Walker, Steven Berkoff, Chris Ward and others.
THE HIGHWAYMAN
Friedrich Schiller – produced by the Goethe Institute.
THE BITTER TEARS OF PETRA VON KANT
With Delphine Seyrig and Mary Tamm at the New End Theatre,Hampstead.
FANTASY BONDS
Old Red Lion Theatre, Islington, written and directed by Mick Mahoney.
GODS DRUMMING
Diorama Theatre, Portland Place, written and directed by Chris Ward.
SEASONS
Lost Theatre, Vauxhall – written by Gareth Parker – May 2010
THE CEREMONY www.wirelesstheatrecompany.co.uk (radio play)
SHARED www.wirelesstheatrecompany.co.uk with Rula Lenska
THEATRE CRITIC
Regular Theatre Critic for Radio 101.4 FM based in Hammersmith.
directing
BLIND INTERVIEW
Directed devised short comedy film.
A.& E. GET WELL SOON
Kingston International Festival – 2010
14 SECS
Written by Peter Yates – Edinburgh Festival 2009
GULLIBILTY FACTOR
Written by Peter Yates – Edinburgh Festival 2008
www.wirelesstheatrecompany.co.uk –
Directed various productions including 'Frozen' and 'The Importance of Shoes'
TRUTH DETECTOR
Written by Peter Yates – One Act Festival – London 2008
FROZEN
Came 2nd in the One Act Festival, 2007 – London written by Jack Bowman
NETS
Studio Theatre at the Tricycle Theatre. Kilburn High Road, – 2007
TOP GIRLS
written by Caryl Churchill, Lost Theatre, Fulham, London. – 2006
I, MARY MAGDALENE
Canal Cafe Theatre, Little Venice, London written by Dominic Brown 2005
PORTOBELLO FILM FESTIVAL
On the Executive Management of the Portobello Film Festival, Notting Hill, London.
Also on the Editorial Board of the Portobello Film Magazines where she writes pieces on film and reviews experimental films.
education
ASSOCIATE RESEARCH FELLOW – 2019
De Montford University, Leicester
TEACHER & LECTURER
Teaches and lectures on film and film makers and video art, recent lectures include the National Film Theatre and the recent Film makers Convention at the Roundhouse.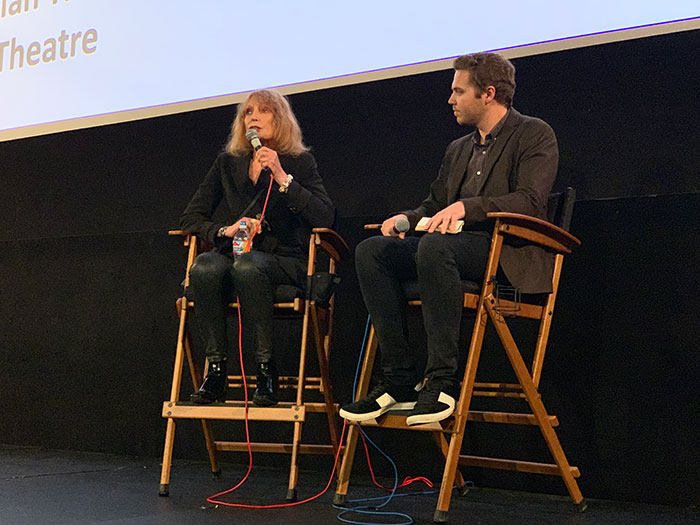 Talking at Egyptian Theatre LA – on Working with John Cassavetes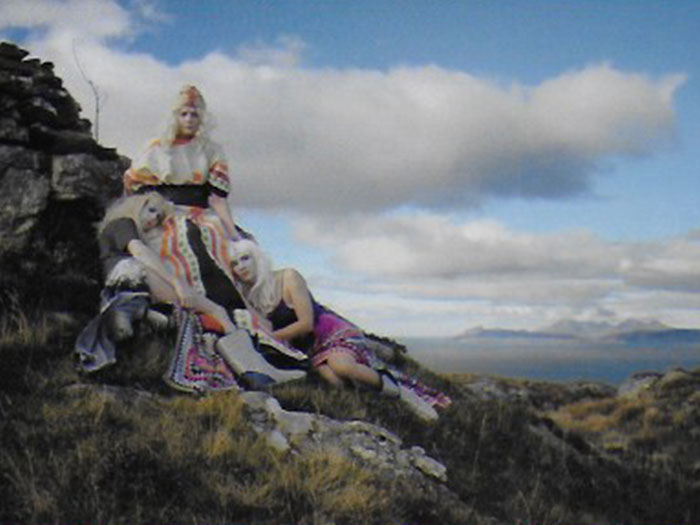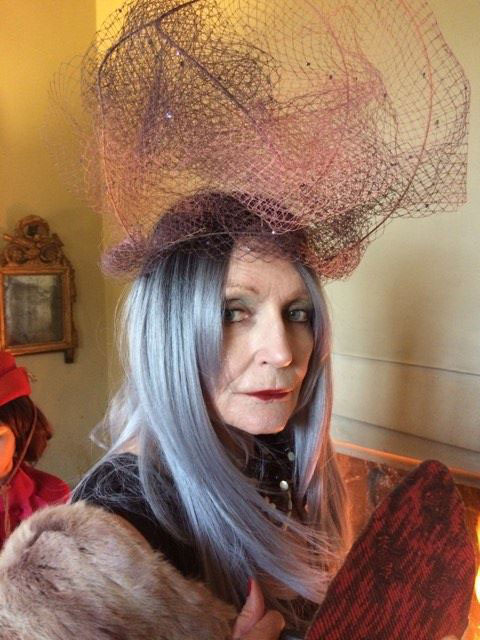 Das Speil der Hoffnung – currently in production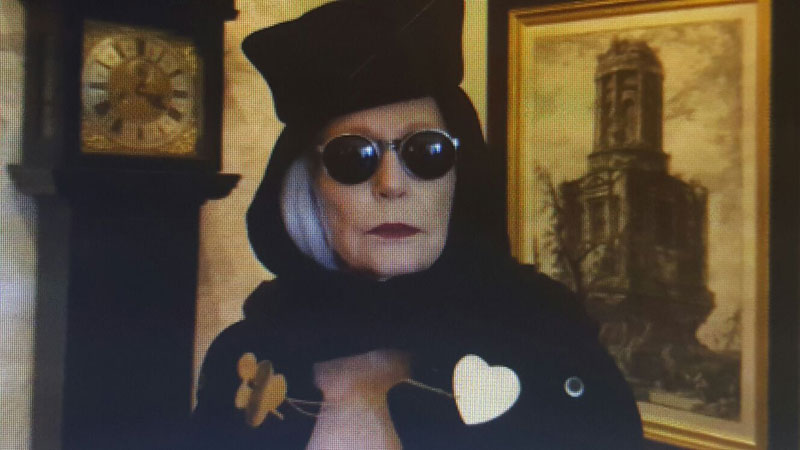 Das Speil der Hoffnung – currently in production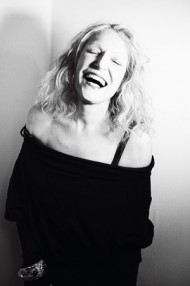 Jenny Runacre – Photo by Ed Edwards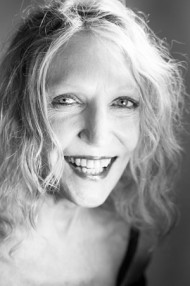 Jenny Runacre – Photo by Ed Edwards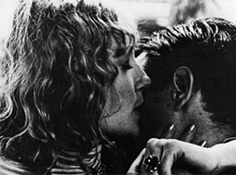 John Cassavettees' 'Husbands'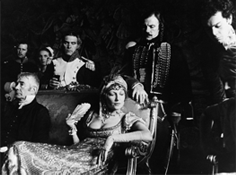 Ridley Scott's 'The Duellists'